Hospitality
As a part of The Bernstein Companies, TBC Hotels has a long history of building lasting and meaningful relationships with associates, guests, partners, and the community. As one of the oldest commercial real estate firms in Washington, D.C. and TBC Hotels purchased its first hotel in 1982. Over the past 35 years, TBC Hotels has owned, developed, and operated more than 20 hotels throughout the United States.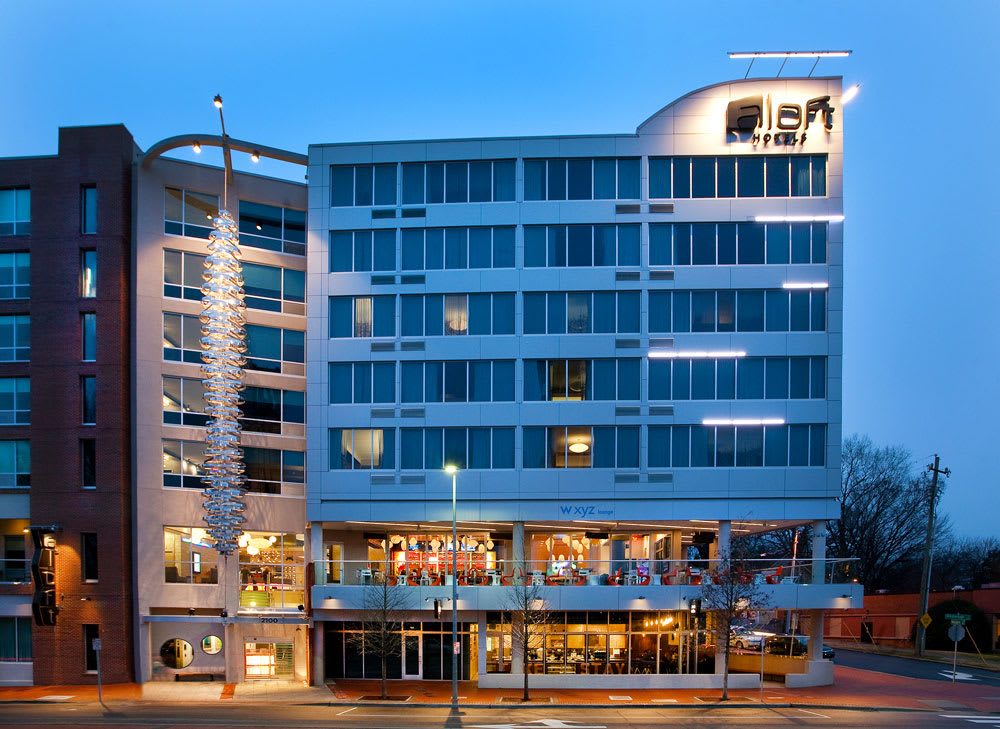 The core values of TBC Hotels include not only strong, lasting relationships, but also integrity, legacy, entrepereurial spirit, and hospitality.
Aloft Raleigh
The Aloft Raleigh is the newest, most refreshing and adventurous hotel to come to Raleigh in years. Designed for travelers who like open spaces, open minds, where style and a vibrant social scene are necessary, this modern marvel is easily one of the top choices among hotels in downtown Raleigh, NC.

Our 135 contemporary accommodations feature upscale comforts fit for today's discerning jetsetter, and across our hotel guests can enjoy complimentary Wi-Fi, an outdoor pool and onsite dining. Our convenient location places guests within easy access of Raleigh-Durham International Airport, Raleigh's City Center, and the NC Capital District so you'll never get bored.

Among downtown Raleigh, NC hotels, Aloft Raleigh fosters a unique social experience with open floor plans, premier business and leisure amenities and the breathtaking surroundings of NCSU. Upon entering our floor-to-ceiling sliding glass entrance, guests are welcomed by the sweet aromas of Jubala Village Coffee and Gonza Tacos Y Tequila, which offers delicious catering for meetings and events held at Aloft Raleigh. We also offer a stunning outdoor terrace bar located on the 2nd floor, a perfect place to unwind.
Services and Amenities:
6,000 SF of retail on Hillsborough Street
Outdoor public space that extends off the second floor lobby
Aloft wxyz bar
Outdoor pool
Fitness center
Over 1,200 SF of function space
Two level parking deck
Complimentary Wi-Fi
Onsite valet parking
Gonza Tacos Y Tequila
Jubala Village Coffee
Onsite catering services
We are committed to conducting our business in an environmentally responsible and sustainable manner. We are dedicated to business strategies that continually improve our use of natural resources, minimize waste, conserve energy and water, and protect air quality. We will continue to implement policies that improve the environment of our buildings in order to positively impact our associates, guests, tenants, and surrounding community. TBC Hotels' environmental efforts have reduced our total energy consumption by over 20% annually and have curtailed tons of recyclables a year from landfills.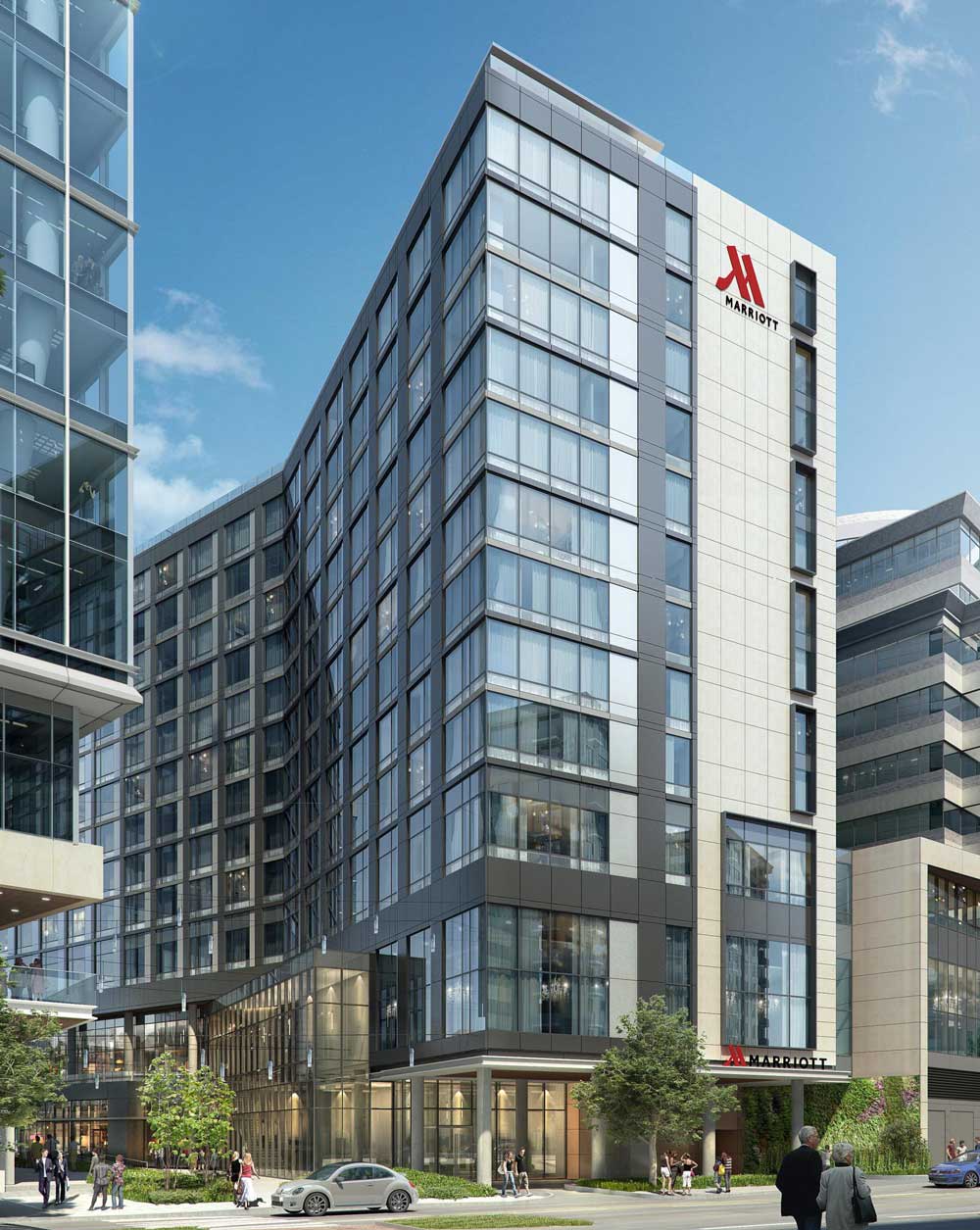 Marriott Bethesda Downtown - Marriott Headquarters Hotel
Opened as Marriott's 8000th hotel on March 1, 2022, The Bernstein Companies developed Marriott International's flagship Marriott hotel as part of the $600 million Headquarters campus in downtown Bethesda, MD. The master development includes the 785,000 sq. ft. Headquarters Building (which TBC is co-developing with Boston Properties BXP), the Marriott hotel, underground parking to accommodate almost 1,000 vehicles, and a plaza connecting the two buildings serving as an open, public connection between Wisconsin and Woodmont avenues.

The Gensler-designed 244-key Marriott hotel features the latest innovations in hospitality design. With over 10,000 sq. ft. of light-flooded flexible space for meetings, conferences, and banquets, the flagship hotel provides both businesses and residents of Bethesda with an amazing place to host events. The hotel will also offer exceptional dining and social amenities, including a ground-floor signature restaurant offering outdoor dining on the pedestrian plaza, and an indoor/outdoor rooftop bar terrace. In addition to the 244 standard guest rooms and suites, the hotel houses an additional 18 "Innovation Rooms," which Marriott uses as a lab to test new concepts across their brand portfolio.

The site lies at the intersection of Woodmont, Wisconsin and Norfolk Avenues, just 800 feet from the Bethesda Metro Station. As Bethesda's next world-class destination, the hotel offers easy access to numerous dining options, movie theaters, jazz clubs, live theatre venues and comedy clubs. This legacy project will redefine lodging in Montgomery County while stimulating economic growth and enhancing Bethesda's cultural experience.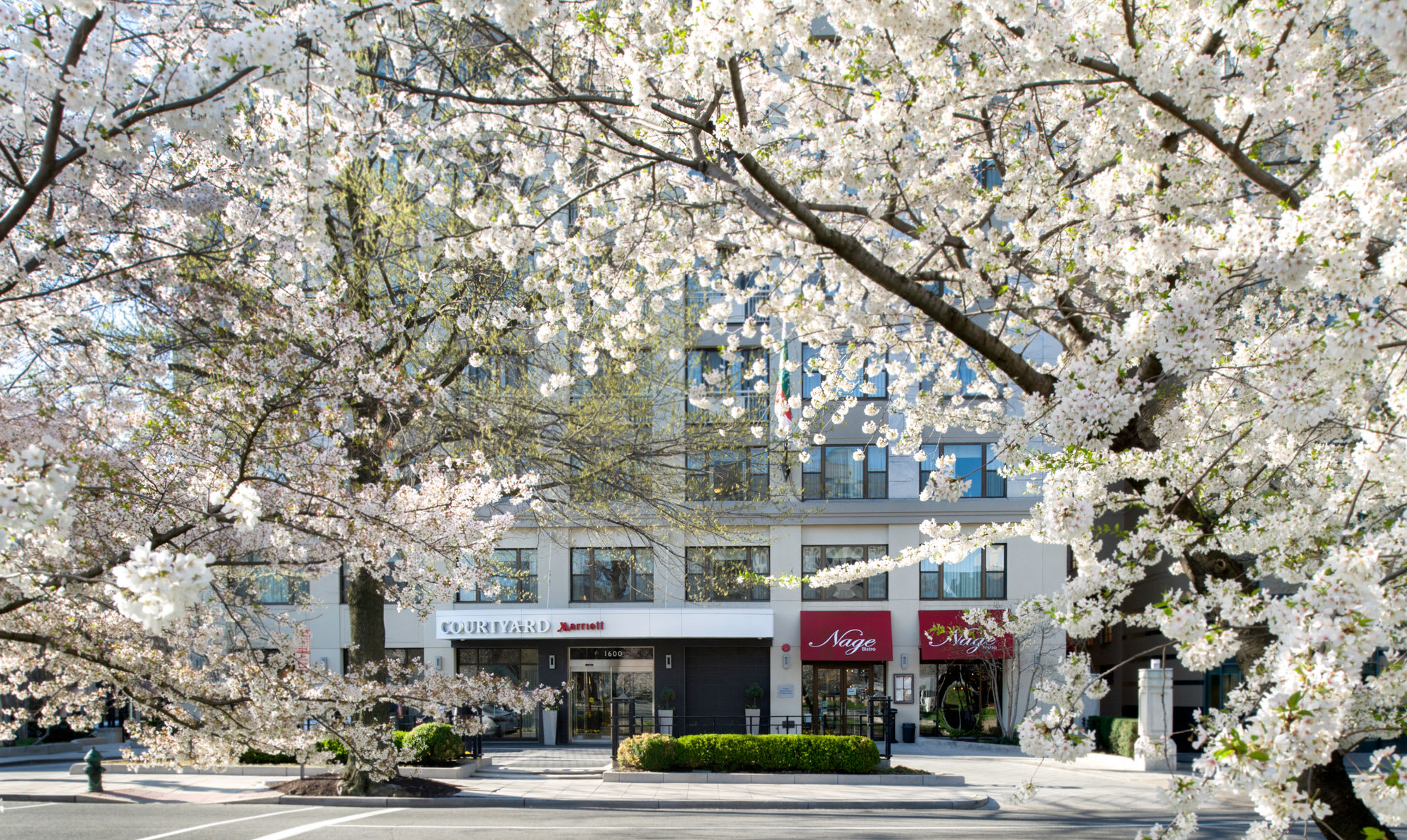 Hotel 1600
Hotel 1600 is conveniently located in Scott Circle in downtown Washington, D.C. The hotel is a great choice for business, leisure and convention guests looking for sophistication, style, and renowned Marriott service in the heart of Washington, D.C.

The hotel combines state-of-the-art accommodations with warm, plush furnishings and the flair of a modern boutique. Stay connected with free high speed internet in our oversized guest rooms, featuring high definition LCD televisions. Sleep well on the 11 inch plush mattresses appointed with 300 thread-count sheets and down comforters.
Our Washington, D.C. hotel is located just 5 blocks from the White House, less than a mile from the Washington, D.C. Convention Center, and less than a mile from Georgetown. The hotel is near several major government agencies, business institutions, embassies, and major tourist attractions.

Hotel 1600 is located within walking distance of three convenient Metro stops, the Dupont Circle, Farragut North, and McPherson Square stations.
Services and Amenities:
156 oversized guestrooms, including 7 king and 2 executive suites
3 meeting rooms with 1304 sq. ft. total meeting space
Complimentary wireless high-speed internet access
300-thread-count sheets
11-inch mattresses
Quilted down comforters
High definition LCD television
Premium cable TV channels
Dual-line speakerphone with voicemail
In-room safes
Iron and ironing board
Hairdryer
Refrigerator and microwave upon request
Individualized in-room climate control
Fitness Center with weight training and cardio equipment
Heated indoor pool and hot tub
Hospitality suites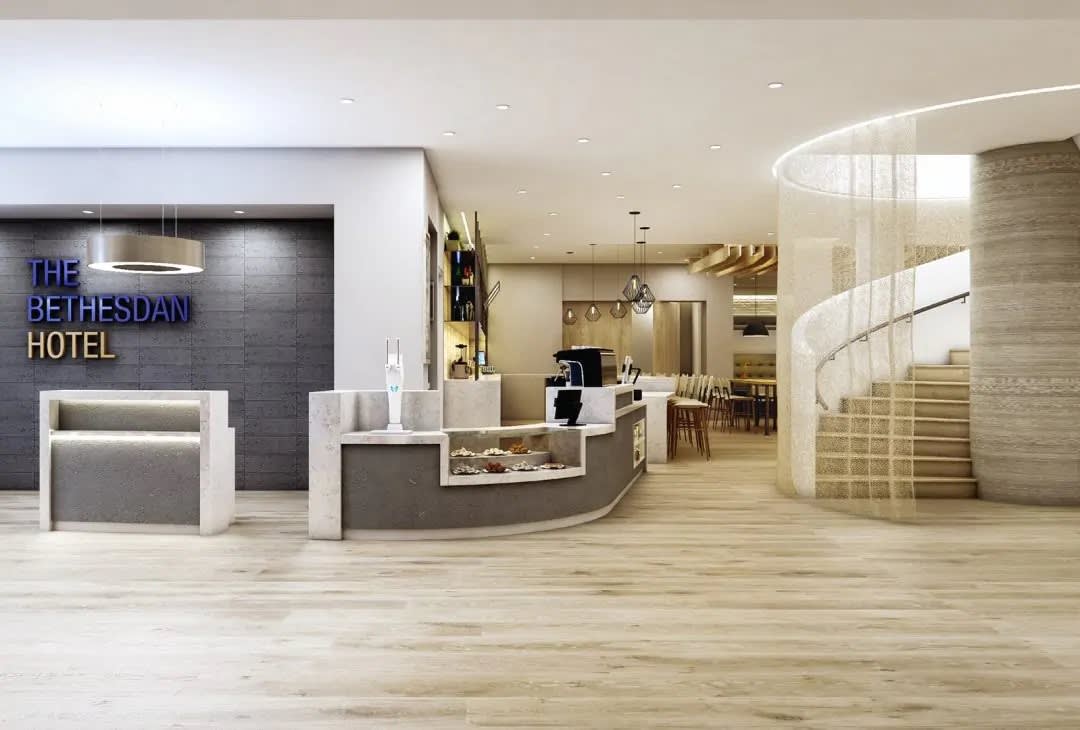 The Bethesdan Hotel, Tapestry Collection by Hilton
The Bethesdan Hotel, Tapestry Collection by Hilton features 270 guestrooms, about 13,200 square feet of flexible meeting and event space, and a full-service restaurant and bar. Offering full-service amenities such as a seasonal rooftop pool and sundeck, fully-equipped fitness center, valet parking, and complimentary shuttle service to and from the National Institutes of Health and the Walter Reed National Military Medical Center, the hotel benefits from year-round corporate room night demand. The main entrance of the Hotel is situated directly on the highly-trafficked Wisconsin Avenue. The entrance features a porte-cochère with valet parking in the Hotel's 146-space below grade parking garage.

Our hotel combines state-of-the-art accommodations with warm, plush furnishings and the flair of a modern boutique. The Hotel benefits from its affiliation with Hilton Worldwide and with a global distribution system that includes 758,500 guestrooms. The Tapestry Collection is represented in more than 450 locations worldwide featuring inviting social spaces, high-end amenities and offerings, and a first-class loyalty program. Located in the thriving urban district of Bethesda, Maryland, the area offers nearly 200 restaurants, two live theaters, 20 art galleries, and some of the best shopping in the Washington Metro Area.

The Bethesdan Hotel, Tapestry Collection by Hilton is located within walking distance of the Bethesda Metro Station, the free Bethesda Circulator, Capital Bikeshare, numerous bus stops and a free shuttle to two large nearby corporate campuses. It also benefits from easy access to the beltway and the Dulles International, Reagan International and Baltimore-Washington International Airports via Woodmont, Wisconsin and Old Georgetown Road. Bethesda, along with neighboring cities of Rockville and Gaithersburg, form the core of the Interstate 270 Technology Corridor, which is home to a number of software and biotechnology companies and government agencies.
Services and Amenities:
270 sun-filled guest rooms with sweeping views, including 131 king rooms, 124 double rooms, 9 residence suites with kitchenettes and 6 junior/executive suites.
13,200 SF of IACC certified flexible meeting and event space consisting of a conference center and 11 meeting rooms
Outdoor pool
Free area shuttle
Complimentary wireless high-speed internet access
MP3 docking station
42-inch high definition LCD television
Premium cable TV channels
Dual-line speakerphone with voicemail
In-room safes
Iron and ironing board
Hairdryer
Rollaway/extra beds
Individualized in-room climate control
Fitness Center with weight training and cardio equipment
Complimentary cribs/infant beds
Limo/town car service